Getting Started with Email.icu Webmail
Email.icu Email Plus provides you access to the following services:

A 25-gigabyte mailbox (suitable for businesses) using your website's domain and the following components:
– Contacts: Email.icu provides you with the ability to manage your contacts via our webmail interface. Add new contacts, import or export old contacts using .csv file extensions for various clients. Organise contacts by groups or alphabetically
– Calendar: Email.icu allows you to manage your calendar to schedule appointments, meetings and reminders via the webmail interface. With the options to share your calendar, create personal calendars, import events and add shared calendars within your domain. This is useful for business looking for better internal organisation.
– Send emails using your favourite desktop mail program 
– Sync your account information to your device on-the-go such as Emails and Contacts
– Desktop sync apps available on both Windows and Mac 
A secure 30-gig Cloud Drive with the following components:
– Desktop sync apps available on both Windows and Mac 
– Access to online file editing tools for both documentation and spreadsheet creation
Webmail with Email.icu.
Our services allow you to access your inbox, documents, planner or contact lists anywhere you go without the need to reconfigure for new devices.
Cloud Storage for Desktop
Email.icu email plus offer cloud storage, this can be accessed within the web application. We have provided the option for Cloud Drive to run directly from your desktop. To install simply log into your Email.icu Webmail account and click "Install Now".
Getting your mail on your desktop and phone
To receive emails on your favourite mail application or directly to your mobile device.Email Help Tool and follow the step-by-step instructions for all of your devices.
Settings
Email.icu provides various options for you to use in order to manage your email account. To access settings while in the webmail interface simply: Click the menu next to your email address in the top right corner and click settings.
General Settings
Display Preferences: From here you can choose to display HTML emails or not. Select if you block external images, change the preview pane and change how many emails are listen per page.
New Messages: From here you can select how often you check for new mail and if you will be notified when mail is received.
Trash Options: From here you can select what happens to emails you trash.
Calendar: Provides the option to delete invitations once you have responded.
Language: Allows you to select from 11 different languages.
Date and Time: Allows you to change the data, time and time zone you are using.
Composing Email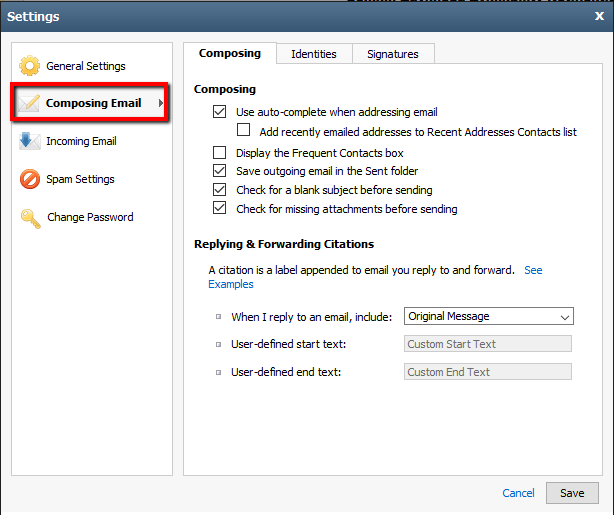 Composing: There are useful options such as Auto-completing email address you can use when composing. Within here you can turn these options on or off.
Replying & Forwarding Citations: From here you can select how your email will be structured when replying. Eg. Will it include the original email?
Identities: Within here you can create new identities allowing you to quickly change the name, email address and reply address on outgoing emails.
Add New Signature: From here you can create and edit signatures for you to assign to your outgoing emails.
Incoming Emails
Auto-Reply: When out of the office you can setup an automatic reply to emails.
Forwarding: If you are out of office and require emails to be forwarded to another inbox this option allows that while retaining a copy on your mailbox server.
Filtering: Need email's for certain users to go into certain folders? This option allows you to setup filtering and will automatically segregate emails.
Spam Settings
Spam Filtering: Allows you to either turn spam filter; On, Off or Exclusive. Exclusive will only accept emails from addresses and IP's on your safelist.
Spam Handing: Allows you to select what you need done to spam. You can either delete spam immediately, have spam moved to a spam folder or redeliver to a different inbox.
Safelist: Allows you to specify emails that can avoid spam filters using either; IP, Address or Domain as indications.
BlackList: Specifics what emails should be blocked by your mailbox by using either; IP, Address or domain as indication.